Rathcroghan
Bringing Ireland's Past and Legends to Life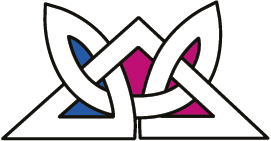 Rathcroghan, Cruachan Aí, is known as the Ancient Capital of Connacht, where the festival of Samhain (Halloween) is said to originate. This majestic landscape is the oldest and largest unexcavated Royal Site in Europe. Experience Rathcroghan's rich archaeology, mythology and history through our interpretive rooms and expertly guided tours. The Rathcroghan Visitor Centre, the home of our museum, is located in the medieval village of Tulsk, Co. Roscommon.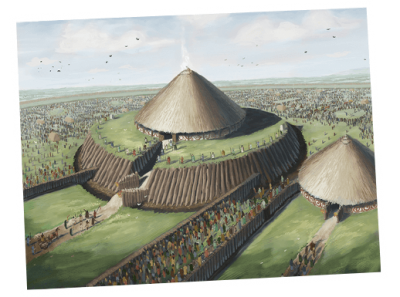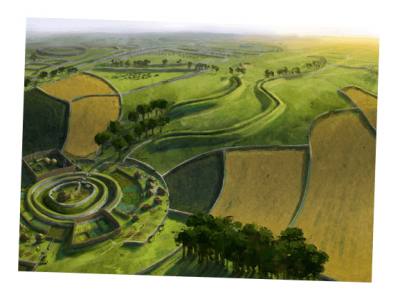 The Rathcroghan landscape boasts over 240 identified archaeological sites, spanning a staggering period of over 5,500 years of human history. It is the location of numerous prehistoric burial mounds from the Bronze and Iron Age, ringforts (settlement sites) of early medieval date, standing stones, linear earthworks, stone forts, a great Iron Age ritual sanctuary, and even a Gate to Hell! In truth, an archaeologist's dream.
Tread across Rathcroghan's ancient landscape in the footsteps of the great warrior Queen Medb, who ruled all of Connacht from her home here at Rathcroghan. Hear the epic tale of the Táin Bó Cuailnge, which features a host of legendary heroes including Medb, the Battle Goddess Mórrígan, Connacht warrior Fráoch, and the boy hero Cú Chulainn, whose names and deeds are inextricably linked to the landscape that surrounds us.
Experience the legendary Oweynagat (Cave of the Cats), described by fearful Christian scribes as Ireland's "Gate to Hell" and entrance to the Otherworld. Climb to the top of the enigmatic Rathcroghan Mound, which in the Iron Age was impressively topped with wooden ramparts and ceremonial henges, whose secret heart remains an untouched mystery.
To visit Rathcroghan is to witness ancient Ireland at its best!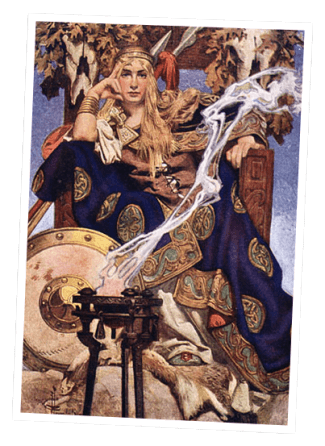 RATHCROGHAN: THE GUIDEBOOK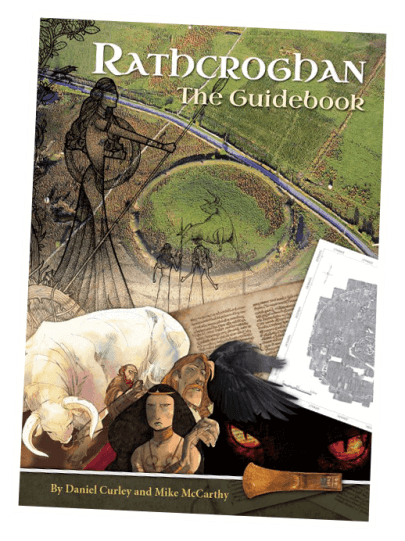 If you wish to delve into Rathcroghan then our Guidebook contains entries on every aspect of Rathcroghan, from its archaeological and historical landscapes, through to its literary and mythological associations. This publication is the quintessential user's guide to this fascinating archaeological landscape, drawing upon historical, literary and cutting-edge archaeological research.Rathcroghan: The Guidebook is designed to bring the reader on a journey through time at Rathcroghan,from the first settlers to this broad limestone plain in the Neolithic period, through to the political mechanics of late-medieval Machaire Connacht.
You will see how our ancestors wove a tapestry of literature on top of this canvas of Rathcroghan,connecting physical landmarks and ancestor burials with the intoxicating narrative of Queen Medb of Connacht and the Ulster Cycle of Tales, filled with war and strife, jealousy and intrigue, gods and mere mortals.
'A Guidebook Which In Its Scope, Detail And Presentation, Is Worthy Of The Ancient Royal Site That It Describes. This Is The Essential Guide To One Of Ireland's Premier Ritual Landscapes.'
PROF. J.P. MALLORY
PROFESSOR EMERITUS, QUEEN'S UNIVERSITY BELFAST
Our Guidebook is available to purchase at the Visitor Centre and in our online Bookshop.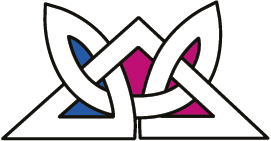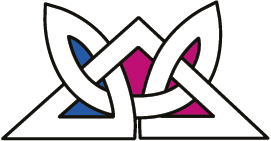 Interesting and intriguing tour with guide Mike. Walking through history, this is a must do trip. Raincoat and walking shoes advised. Also bought the Guidebook which was Co written by Mike. A great souvenir.

First visit to Rathcroghan since we live in Ireland and it was a wonderful discovery. Thanks to David our guide we took a journey through history and myth that we thought we knew but that has reserved many surprises for us.
We recommend everyone a visit!

We really enjoyed the Rathcroghan tour and the visitor centre. Daniel was a fantastic tour guide. Would highly recommend this tour to anybody visiting Roscommon.

My wife and I attended the Visitor's centre today (21st July 2020) and did the tour. Our guide Elaine was brilliant, so well informed and so enthusiastic about Irish myths and legends. Learned so much about our history. Visitor's centre well organised, taking all necessary Covid precautions. Great effort by local community to develop such an interesting and educational enterprise.

Excellent..Daniel is very knowledgeable & passionate about the history of Rathcroghan & the surrounding area. Brilliant tour, we attended the 2pm slot. Unfortunately we didn't get a chance to visit the museum before our tour – aim to arrive early so you don't miss the museum..we'll be back..

If you are in the West you must visit Rathcroghan and take the tour led by the mighty Mike, who brings this unique place alive with his depth of knowledge. If you have an interest in Irish history, mythology,land this is a tour not to be missed. My teenage cousins were amazed by the Cave of Cats and like myself will remember this tour for a long time yet. Thank you so much Mike and all staff who are guardians of this extraordinary place.

The tour guide we had was Daniel Curley and he was brilliant. He made sure to answer all of the questions we had and was very helpful to our little group as we need research for a course project. I would highly recommend going to.

Great experience and really helpful staff along with great book shop and cafe. After we did the interpretative centre we drove to all the sites using a map they gave us. They are all quite close to Tulsk village and each other or they run tours.
Well worth a stop if you are on the n4/n5.